If I had a dollar for every time I've been asked this, I would have a lot of dollars....
 
So I decided I would write a quick blog post that current and future clients can skim through to get a few ideas, and hopefully cut back on some of the stress. After all, these are your engagement photos, its supposed to be fun!!
1) I always, always tell everyone that asks to start with something that makes the "bride" feel comfortable, pretty, and confident wearing. This general rule of thumb can be used for any type of session, whether it be an engagement session, family session, high school seniors- you name it.
2) Now that you've got that first basic outfit picked out that makes you feel pretty and that you're comfortable in, LAYER IT UP, GIRL. The more layers you can add to an outfit, generally the better. Want to throw on a scarf? Perfect. Maybe wear that cute felt hat that you never find an excuse to wear? Awesome. Want to add your favorite watch AND two or three bangles? Go for it! There really are no rules, and if you show up to your shoot and I think you've maybe over done it just a tad, please have confidence in knowing that I WANT YOU TO LOOK YOUR BEST and will therefore suggest maybe taking off the lime green sunglasses would be better ;)
3) Ok so now that we officially have you looking like a rock star.... what the heck is prince charming going to wear??? Well, I suggest taking ONE of the colors from your outfit and incorporating it into his. The key is to coordinate, not match. For instance: Say you are wearing an olive green T-shirt dress with a red and blue plaid scarf, gold jewelry, and brown booties. Does bae have a red Henley that coordinates with the red from your scarf? Maybe even a tan or light brown button up? Maybe he has a navy blue polo shirt? Dark jeans? brown shoes and a belt? Guys really are pretty easy if the YOU feel confident in your outfit first.
4) The last and most important thing you can do to get ready for ANY photo session is just to try and be relaxed. Bring your beautiful smiles, great attitudes, and everything else really will just fall into place naturally. Below are a few images I gathered (thanks Pinterest) to help you get going.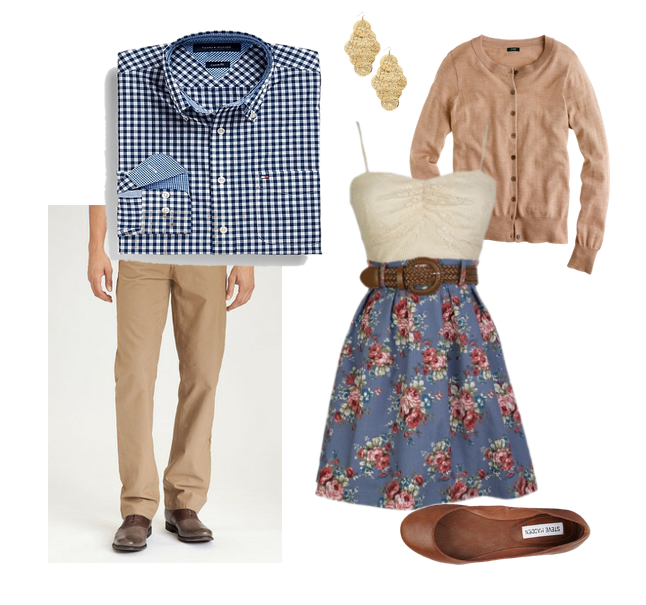 **all of the photos above were found through pinterest or google and are not my own.